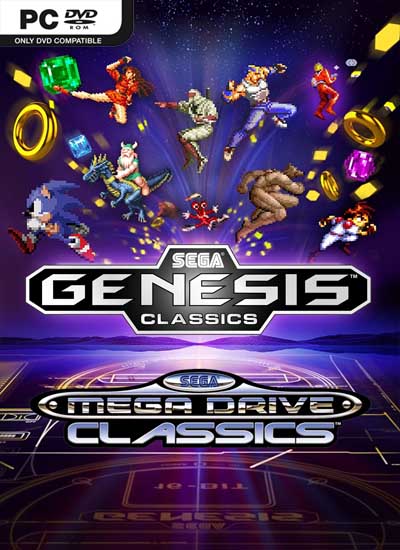 Sega Genesis FrontEnd es una maravillosa compilación con más de 400 juegos de la famosa consola de SEGA: Mega Drive o Sega Genesis. El software contiene una lista con todos los juegos, solo deberás ejecutar el acceso directo de tu escritorio, seleccionar un juego de la lista, hacer doble clic y listo.


Plataforma: PC
Idioma (Textos): Inglés
Tamaño: 278 MB
Formato: EXE
Genero: Acción, Aventura, Retro, 2D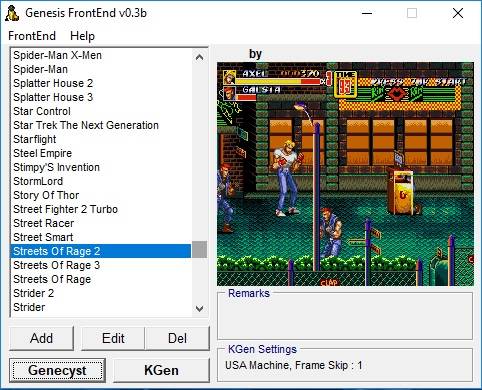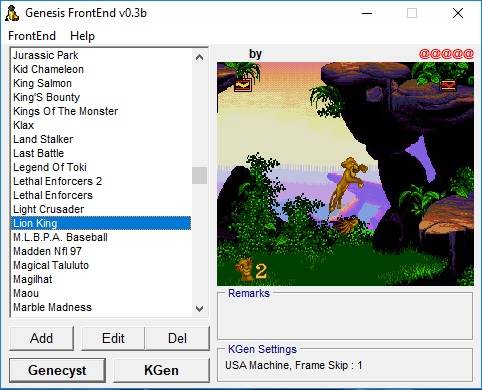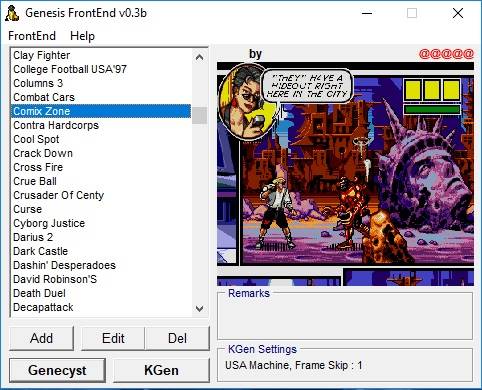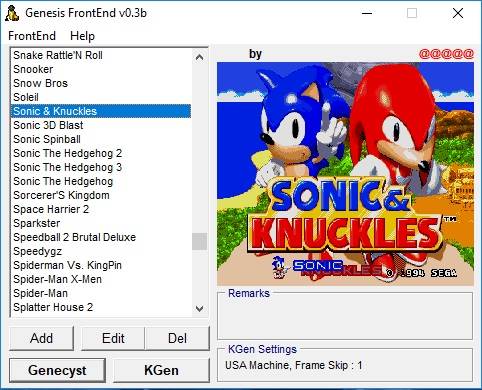 Requisitos Mínimos
Sistema Operativo: Windows XP/Vista/7/8/10
Procesador: Pentium 4 o AMD Athlon
RAM: 128 MB o Más
Tarjeta de Vídeo: 16 MB compatible con Direct3D
Disco Duro: 650 MB



VARIOS SERVIDORES
Sega Genesis FrontEnd:
Contraseña: www.blizzboygames.net
Versión: 0.3b
Juegos Incluidos:
1607 A.D. Adventure
688-Sub_Attack
Abrams Battle Tank
Action 52
Addams Family
Advanced Daisenryaku
Adventures Of Batman And Robin
Aero Blaster
Aero The Acrobat 2
Aero The Acrobat
Aerobiz Supersonic
After Burner 2
Air Diver
Aladdin
Aleste
Alex Kidd
Alien 3
Alien Soldier
Alien Storm
Alisia Dragoon
Altered Beast
Animaniacs
Another World
Aquatic Games
Arcade Classics
Arch Rivals
Arcus Odyssey
Arrow Flash
Art Of Fighting
Asterix and the Power of The Gods
Atomic Runner
Awesome Possum
Back To The Future 3
Ball Jacks
Barney'S Hide And Seek
Batman & Robin
Batman Returns
Batman Revenge Of The Joker
Batman
Battle Frenzy
Battle Master
Battle Squadron
Battletech
Battletoads And Double Dragon
Battletoads
Beauty & The Beast: Belle's Quest
Beauty & The Beast: Roar of the Beast
Beavis And Butthead
Berenstain Bear'S Camping Advt
Best of the Best Championship Karate
Beyond Oasis
Bill Walsh College Football
Bimini Run
Bio-Hazard Battle
Blaster Master 2
Blockout
Blood Shoot Battle Frenzy
BOB
Body Count
Boogerman
Brutal Paws of Fury
Bubba Stick
Bubsy 2
Bubsy
Buck Rodgers Countdown To Doom
Bugs Bunny In Double Trouble
Bulls Vs Lakers
Cadash
Caesars Palace
Cal Ripken Jr. Baseball
Caliber Fifty
California Games
Castle Of Illusion
Castlevania The New Generation
Centurion: Defender of Rome
Chakan
Champion World's Classic Soccer
Championship Pool
Championship Pro-Am
Chaos Engine 2
Chase-Hq2
Chester Cheetah
Choplift
Chuck Rock 2
Chuck Rock
Clay Fighter
College Football USA'97
Columns 3
Combat Cars
Comix Zone
Contra Hardcorps
Cool Spot
Crack Down
Cross Fire
Crue Ball
Crusader Of Centy
Curse
Cyborg Justice
Darius 2
Dark Castle
Dashin' Desperadoes
David Robinson'S
Death Duel
Decapattack
Demolition Man
Desert Strike
Devil Crash
Devilish
Dick Tracy
Dj-Boy
Domminus
Doom Troopers: The Mutant Chronicles
Double Dragon 2
Double Dragon 3
Double Dragon 5
Double Dragon
Dr Robotnik'S Mean Bean Machine
Dracula
Dragon Ball Final Bout
Dragon Ball Z
Dragon: The Bruce Lee Story
Dragon'S Revenge
Dune – The Battle For Arrakis
Dynamite Duke
Dynamite Headdy
Earnest Evans
Earthworm Jim 2
Earthworm Jim
Ecco The Dolphin
Ecco The Tides-Of Time
Elemental Master
Eliminate Down
Elviento
Ernest Evans
Escape From Mars
Espn Baseball Tonight
Eswat
Eternal Champions
Evander Holyfield
Exile
Ex-Mutants
ExoSquad
F-15 Strike Eagle 2
F-22 Interceptor
Fantasia
Fatal Fury 2
Fatal Fury
Fatal Labylinth
Fatal Rewind
Fifa International Soccer 97
Fifa International Soccer
Fifa International Soccer 96
Finalzone
Fist of the North Star
Flashback
Flicky
Flintstones
Foreman For Real
Forgotten Worlds
Funcar Rally
Gaiares
Gain Ground
Garfield
Gauntlet 4
GemFire
General Chaos
Ghost Busters
Ghouls'N Ghosts
Gleylancer
Global Gladiator
G-Loc Air Battle
Gods
Golden Axe 2
Golden Axe 3
Golden Axe
Goofy
Great Waldo Search
Greatest Heavyweights
Greendog
Grind Stormer
Growl
Gunstar Heroes
Gynoug
Hard Driving
Hardball 94
HardWired
Hellfire
Herzog Zwei
High Sea's Havoc
Home Alone
Hyper Dunk
IMG International Tour TennisI
ImmortalI
Incrible HulkI
Indiana Jones The Last Crusade
Insector X
Itchy & Scratchy
James Buster Douglas
James Pond 2
James Pond 3
James Pond
Jeopardy Deluxe Edition
Joe Montana 2
Jungle Book
Jungle Strike
Jurassic Park: Rampage Edition
Jurassic Park: The Lost World
Jurassic Park
Kid Chameleon
King Salmon
King'S Bounty
Kings Of The Monster
Klax
Land Stalker
Last Battle
Legend Of Toki
Lethal Enforcers 2
Lethal Enforcers
Light Crusade
Lion King
M.L.B.P.A. Baseball
Madden Nfl 97
Magical Taluluto
Magilhat
Maou
Marble Madness
Mario Lemieux Hockey
Marvel Land
Master of Monsters
Maui Mallard in Cold Shadow
Maximum Carnage
Mega Bomber Man
Mega Turrican
Megaman The Wily Wars
Megapanel
Mercs
Mickey Mania
Mickey's Ultimate Challenge
Mickey'S Ultimate Changelle
Micro Machines
Midnight Resistance
Might & Magic 3
Might & Magic
Monopoly
Monster Of The Monsters
Moonwalker
Mortal Kombat 2
Mortal Kombat 3 Ultimate
Mortal Kombat
Mr. Nutz
Ms. PacMan
Mutant Chronicles Doom Troope
Mutant League Football
Mutant League Hockey
Mystic Defender
Mystical Fighter
Nba Hangtime
Nba Jam
Newzealand Story
NHL Hockey 92
NHL Hockey 93
NHL Hockey 94
NHL Hockey 95
NHL Hockey 96
Ninja Gaiden
Nitemare Circus
Olympic Summer Games
Operation Europe Path To Victory
Out Of This World
Outlander
Outrun
PacAttack
Pac-Man 2
Pacmania
Paperboy 2
Pga Tour 96PGA96
Phantasy Star 2
Phantasy Star 3 Generat Of Doom
Phantasy Star 4 End Of Millenium
Phelios
Pirates Of Dark Water
Pit Fighter
Pitfall The Mayan Adventure
Pocahontas
Populous 2
Populous
Power Rangers 2
Premier Manager 97
Primal Rage
Prince Of Persia
Psycho Pinball
Puggsy
Pulseman
Punisher
Puyopuyo
Quack Shot
Race Drivin
Ragnascent
Raiden Trad
Rainbow Islands
Rambo 3
Rampart
Ranger-X
Rastan 2
Rbi 3 Baseball
Rbi 4 Baseball
Ren & Stimpy's Invention
Resq
Revenge Shinobi
Rings Of Power
Ristar
Road Rash 2
Road Rash 3
Road Rash
Road Runner: Desert Demolition
Robocop Vs Terminator
Rocket Knight Adventures
Rock'N Roll Racing
Rolling Thunder 2
Rolo To The Rescue
Romance Of The Three Kingdoms 2
Romance Of The Three Kingdoms 3
Rugby World Cup 95
Sailormoon
Samurai Shodown
Second Samurai
Shadow Dancer
Shadow of the BeastS_BEAST
Shadowrun
Shaq-Fu
Shining Force 2
Shining Force
Shining In The Darkness
Shinning Forces
Shinobi 3
Shove It
Side Pocket
Simpsons Barts Nightmare
Simpsons Space Mutant
Simpsons Virtual Bart
Smash TV
Snake Rattle'N Roll
Snooker
Snow Bros
Soleil
Sonic & Knuckles
Sonic 3D Blast
Sonic Spinball
Sonic The Hedgehog 2
Sonic The Hedgehog 3
Sonic The Hedgehog
Sorcerer'S Kingdom
Space Harrier 2
Sparkster
Speedball 2 Brutal Deluxe
Speedygz
Spiderman Vs. KingPin
Spider-Man X-Men
Spider-Man
Splatter House 2
Splatter House 3
Star Control
Star Trek The Next Generation
Starflight
Steel Empire
Stimpy'S Invention
StormLord
Story Of Thor
Street Fighter 2 Turbo
Street Racer
Street Smart
Streets Of Rage 2
Streets Of Rage 3
Streets Of Rage
Strider 2
Strider
Sub-Terrania
Sunset Riders
Super Hang-On
Super Hydlide
Super Volley Ball
Super WrestleMania
SuperMan
Sword of Sodan
Sword Of Vermilion
Syd Valis
Target Earth
Task Force Harrier
Technoclash
Tecmo Super Baseball
Tecmo Super Bowl 2 Special Ed
Tecmo Super Bowl 3 Final Edition
Tecmo Super Bowl
Teenage Mutant Ninja Turtles
Terminator 2 Judgment Day
Terminator 2 The Arcade Game
Tetris
The (Mis)Adventures of Flink
The Faery Tale Adventure: Book 1
Theme Park
Thunder Force 2
Thunder Force 3
Thunder Force 4
Tick
Tiny Toon Adventures
TNN Bass Tournament 96
Toejam & Earl 2
Toejam & Earl
Toughman Contest
Toy Story
Tranpoline Terror
Traysia
Truxton
Turbo Outrun
Twin Hawk
Two Crude Dudes
Tyrants
UltraMan
Undead Line
Urban Strike
Valis 3
Valis
Vapor Trail
Vectorman 2
Vectorman
View-Point
Virtua Fighter 2
Wacky Racers
Wanderers From Ys
Wardner
Warlock
Warrior Of Rome 2
Warrior Of Rome
Warriors Of The Eternal Sun
Warsong
We're Back: A Dinossaur Tale
Whip Rush
Wimbledon
Winter Olympics
Wiz And Liz
Wolverine Adamantium Rage
Wonder Boy 3 Monster Lair
Wonder Boy 5 (Monster World 3)
Wonderboy in MonsterLand 4
World Cup 90
World Cup 92
World Of Illusion
World Series Baseball 98
Wrestle War
Wwf Royal Rumble
Wwf
Xenon 2
X-Men 2 Clone Of Wars
X-Men
Yochi
Ys 3: Wanderers of Ys
Zero The Kamikaze Squirrel
Zero Tolerance
Zero Wing
Zombies Ate My Neighbours
Zool
Zoom

Para Instalar se descargan el archivo «.rar» una vez descargado lo descomprimen (la contraseña es: «www.blizzboygames.net» sin las comillas) y les quedara el instalador del juego, lo ejecutan y luego siguen los pasos de instalación. NOTA: Se recomienda no cambiar la ruta de instalación: «C:\Games\Sega Genesis FrontEnd». Para jugar, hacer doble clic al icono del escritorio «Sega Genesis FrontEnd», seleccionar un juego de la lista y hacer clic en «Genecyst».